Based on our research and reviews, here are the easiest woodworking projects for beginners:

Did you know that 1 out of 3 people who failed in their DIY home improvement projects ends up hiring a professional? 
Many people get too cocky when it comes to woodworking and DIYs—they take on huge projects too early and they end up failing. Horribly.
I've done countless DIY projects myself, both failing and succeeding many times. From experience, I do have good knowledge of what kinds of cool woodworking projects are apt for a beginner.
I don't want you to waste your precious time and money on something that's more likely to fail. And I certainly don't want you to spend countless hours just to find them all over the internet so I've done the hard part for you.
I've searched for and compiled the Best Woodworking DIY Projects that would set your woodworking journey into a great start. Read on to see the beginner's list containing quick, simple, hassle-free, and easy-to-understand projects that any newbie would understand. Alternatively, you can also read about profitable woodworking projects.

100 Beginners Woodworking Projects:
1. Simple Wall Shelf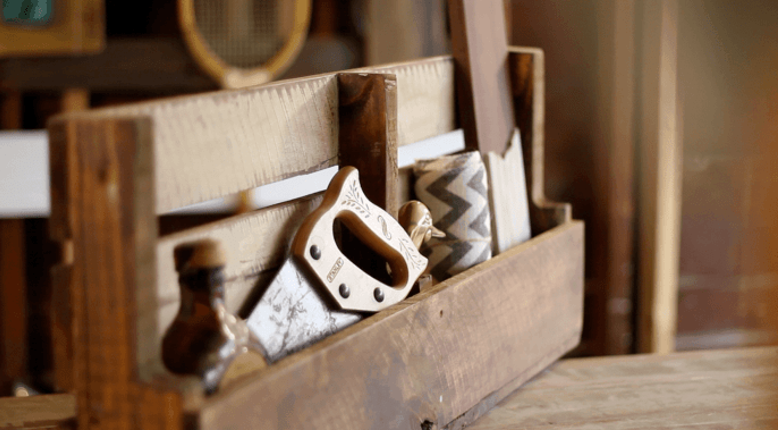 2. Porch or garden table
3. Sofa Sleeve and Cup Holder
4. Candle Holder
5. Wooden Media Box
6. Address Number Wall Planter
7. Cookbook Stand or Tablet Holder
8. Scrap Plywood Candle Holders
9. Bird Feeder
10. Tree Swing
11. DIY Wine Rack
12. Pencil Holder
13. Welcome Mat
14. Scarf Hanger
15. Lazy Susan
16. Cedar Planter
17. Hanging Basket Stand
18. Wood Wall Art
19. Triangle Mirror
20. Bookends
21. Over-the-sink wood shelf
22. Basic Drawer
23. Bottle Vase
24. Office Supply Tray
25. Coffee Bar
26. Side Table
27. Wooden Toolbox
28. Framed Burlap Sign
29. Wooden Arrow
30. Bowling Lane
31. Ironing Board Holder
32. Vegetable Storage Bin With Divider
33. Planter Pot and Table Combo
34. Wooden Shiplap Placemats
35. Pet Bed
36. Hammer Coat Rack
37. Shiplap Wall Key Holder
38. Drawer Divider Insert
39. Tiered Planter
40. Bar Stool
41. Hanging Garden
42. Mid-Century Inspired Plant Hanger
43. Do-It-Yourself Clothes Rack
Credit: Chloe Larkin
44. Minimal X-shaped Coasters
45. Glasses and Wine Bottle Holder
46. Blanket Ladder
47. Tiered Garden Shelf
48. Pieced Wood Headboard Tutorial
49. Wine Caddy
50. Wood Star
51. Mug Holder
52. Handmade Ruler
53. Storage Cubbies
54. Stools
55. Chair Drink Holder
56. Utensil Organizer
x
57. Outdoor Chalkboard
58. Napkin Rings
59. Ring Toss
60. Football Toss
61. Circle Shelf
62. Makeup Storage
63. Plant Stand
64. Bike Organization
65. Rustic Wood Mirror Frame
66. Long Hexagon Tray
67. Napkin Holder
68. Lamp
69. Wooden Keyholder
70. Pocket Business Card Holder
71. Do It Yourself Wood Round Headboard
72. X-shaped Magazine Holder
74. Wood Slice Photo Transfer
75. Bathtub Shelf
76. Wooden Shoe Rack
77. Marbled Clay Hooks
78. Floating Bookshelves
79. Wooden Baby Gym
80. Earring Stand
81. Wall-Mounted Desk
82. Upholstered X-Bench
83. Bamboo Wind Chime
84. Teapot/Hotpot Stand
85. Oak Book Stand
86. Whittled Peg Rack
87. Lantern
88. Modern Mason Bee House
89. Hanging Table
90. Minimal Wood Spice Rack
91. Rustic Pencil Holder
92. Wooden Edison Bulb Table Lamp
93. Wooden iPhone Dock
94. Leather and Wood Mail Organizer
95. Hammock Stand
96. Corbel Sconce Lights
97. Circular Rope Swing
98. Nightstand
99. Wind Spinner
100. Rustic Photo Display
Woodworking Journey
Woodworking may be pretty intimidating, especially for people who don't have a clue on when to use a chainsaw or which wood to use to build a woodworking project. Carpentry techniques and power tools (e.g. professional hybrid saws) are sometimes really complicated, especially when used to build projects at home.
Not all experts made their way through their woodworking journey already knowing what a jigsaw is for (top reviews here) and how it is different from a reciprocating saw; nor did they perfected their first beveled cut or got all their measurements correctly. Many great woodworkers started from home where they needed to get help to find their way as they build furniture and make projects.
And who says you have to build a massive tree house or a complicated piece, anyway? You can create something with a 1-sheet plywood that is both easy and beautiful.
Woodworking and DIY projects at home don't always have to be made on a larger scale, especially for beginners. There is more than one way you can build and make great projects.
Yes, we're talking about taking baby steps to get you there, and the key to start that journey is actually learning woodworking for beginners, even at home. And if you need to get help or search for a mentor, you can find sources online.
There are simple woodworking plans for beginners that don't need a lot of tools to build and wouldn't take a lot of your time. These plans are great for newbies because they can make or build simpler items. And hey, you don't even need to have a great hybrid saw yet! To help you out in your search for your first official woodworking project, we have listed top woodworking projects for beginners you can choose from. You can even get anything from this list and build a great DIY project with kids with or without their own wooden kits to build!
*Note: the difficulty level of all the following do-it-yourself woodwork and woodshop ideas is at beginner/easy level only. Thus, those who want to search for more complicated projects may find these beginner woodworking projects too basic.
On the other hand, all newbies and beginners can feel comfortable trying out any of the following, and if you got time on your hands, challenge yourself and build more than a few! You will not need complicated and professional tools like a table saw to make these great projects.
Conclusion
Woodworking doesn't have to be complicated—there are a lot of simple woodworking projects you can build when you are at the starting/beginner phase. Yes, even with just a few tools and your best scroll saw, you can build a simple wood item at home without complicated plans. And then you can work your way to creating woodwork projects that can sell.
These 100 easy woodworking projects are just a portion of all possible small wood projects for beginners that you can make. You don't have to produce perfect results after you make these basic woodworking projects. After all, you're still a woodworking beginner.
Many of these easy diy wood projects aren't just decorative; they can be really functional, too. So go ahead and get your woodworking tools ready, and start taking each easy wood project for beginners at a time. Who knows, maybe you'll be able to build or make something that you can share to others. If improving your skills is in your plans, Woodworkers Guild Of America is a good resource.